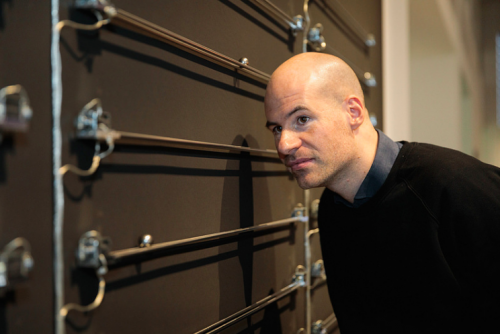 We are happy to announce that Stefan Tiefengraber will join us on  Wed. March 27th at 18:00 at Studio 3  (Center for Human Computer Interaction)  for this year's 3rd subnetTALK.
Stefan Tiefengraber's work ranges from kinetic sound installations and interactive installations to audio / video noise performances. Tiefengraber experiments with the modification of devices, which are originally manufactured for different purposes. Combined with the perception of the audience, this experimental attempt of exploring old and new materials leads him to new and unpredictable results.
The artist's work has been exhibited at Ars Electronica Festival 2018 (Linz/Austria), Galerie gerken (Berlin/Germany), TodaysArt 2014 (Den Haag/Netherlands), New Media Gallery (Vancouver/Canada), 16th Media Art Biennale WRO 2015 (Wroclaw/Poland), Piksel Festival 2016 (Bergen/Norway), … (taken:  http://www.stefantiefengraber.com)
Robertina Šebjanič had to cancel.
subnetTALK 2019 zum Thema "Maschinenkult"
Einblick und Dialog im Spannungsfeld: Kunst, Forschung, Technologie.
subnet 2019 Programm bis Juli
Dokumentationen – past subnetTALK
picture taken from Ars Electronica's flickr