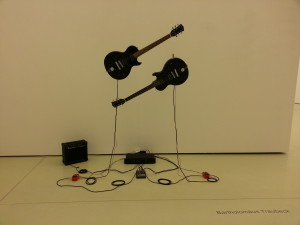 2014 was a great year. Many new things happened and subnet developed as we could only wish: subnetTALK, subnetAIR, as well as Chaostreff Salzburg. All together grew well. A special thanks to Kultur Land Salzburg and Stadt Salzburg for sustainably supporting our endeavor to create a neutral space for experimental media and physical computing in Salzburg.
We started our year with our first larger subnetAIR exhibition in the Stadtgalerie Lehen. Follow the link to find some pictures and more information to the exhibition: issuu.Special thanks to Margit Zuckriegl, Anton Gugg, Karla Spiluttini, Korinna Lindinger, Bartholomäus Traubeck, Ivo Francx, Hannah Perner-Wilson, Laura Skocek, Varvara Guljajeva, Mar Canet and Sebastian Mealla,
Besides many great subnetTALKs and vivid discussions at the FS1 live studio in cooperation with Schwerpunkt Wissenschaft & Kunst, one stands out – the subnetTALK with Christine Sun Kim in American Sign Language. Special thanks to Huber Laila Lucie, Veronika Aqra, Allison Gates Skurtveit, Andreas Madlener for your support. You can watch the impulse part (the open discussions are not recorded) of the subnetTALKs on vimeo.
In 2015 subnetTALK will be part of Salzburg University curriculum and we are looking forward to this new experience. We will commence subnetTALK 2015 on January 14th with Jasper van Loenen by droning it ourselves.
Thanks to the initiative of Iwan Pasuchin we also participated for a call of Kulturkontakt Austria (p[ART] – Partnerschaften zwischen Schulen und Kultureinrichtungen). We are happy to announce that we won.
Our open office initiative kept on going and we continued to host chaos treff Salzburg, Salzburg Games Workshop and instant36. However in the last months of 2014, due to an increasing demand on the chaos treff's side, Alex Huemer initiated talks about an open Salzburg hackspace in our office. We are looking forward to this development in 2015 and will keep you updated.
Last but not least subnetAIR hosted Thomas Grill and Nikolas Psaroudakis. Documentations of their projects will be presented in a timely fashion. Anna Reutinger & Gottfried Haider had to cancel due to personal reasons, we are working on finding another opening in the future.
So many new challenges ahead. Good Bye 2014 – Welcome 2015.
We wish you all the best!