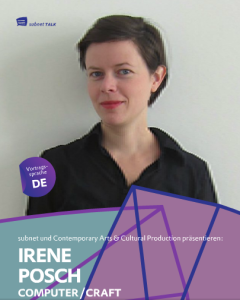 Topic: Computer / Craft
Speaker: Irene Posch 
Irene Posch is a researcher and artist, currently working at the University for Applied Arts and at the Institute for Design and Assessment of Technology in Vienna. Her work focuses on the integration of new technologies into the fields of art and craft and vice versa. It has been presented internationally, among others at FutureEverything, Ars Electronica, V2_ Institute for the Unstable Media and the Eyebeam Art+Technology Center NY.
Date: Wed Nov 11th 2015
Time: 7pm Location: KunstQuartier / Institut für Wissenschaft & Kunst Bergstrasse 12, Salzburg
Language: German
You missed the last subnetTALK? Follow the link: vimeo.com