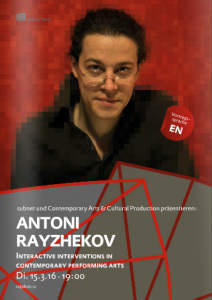 ANTONY RAYZHEKOV: Interactive interventions in contemporary performing arts.
Tuesday, March 15th
TALK
Antony Rayzhekov will present work that is focused on exploring synergies between generative music, contemporary performance and participatory art by designing reactive audio visual spaces as digital media instruments that amplify different aspects of the performer and the performance itself, including the audience as a creative partner.
SPEAKER
Antoniy Rayzhekov is a Bulgarian media choreographer, theatre maker and new media artist – based in Vienna.
Time: 7pm
Location: KunstQuartier / Institut für Wissenschaft & Kunst Bergstrasse 12, Salzburg
Language: English
You missed the last subnetTALK? Follow the link: vimeo.com